The Savannah Hurricane
Australian Rules Football finally arrives in the deep south with the Savannah Hurricane
taking up residence at Forsyth Park or a beer drinking establishment right nearby.
The Savannah Hurricane is HERE
The Savannah Hurricane team is the USAFLs newest club. Born out of the need to have more teams in the "South" and with the passion of two locals that have played Aussie Rules football before, the Hurricane is here to stay.

We are also pleased to announce also we will have players attending the USAFL National Championioships in Sarasota FL in October 2019, representing your Savannah Hurricane.

We practice Tuesday nights at Forsyth Park at 6.00pm. Come check us out or drop us a line.
What is AFL Football?
AFL or Australian Rules Football is a game that has been unique to Australia since 1858, until now.

Australian Football or just "Footy" as it is commonly called by the Aussies or the now passionate Americans, is a game that combines the best of many other sports. It is probably the Swiss Army Knife of team sports. It is amazing !

If you can do one of the following, run, jump, catch, chase, tackle, kick or pass, then there is a place on the Savannah Hurricane Aussie Rules Footy team for you. Sign up today.

Ok, watch this video first to learn more, then sign up.
Savannah Australian Rules Football Invitational Game - June 29th 2.00pm
The first ever game of Australian Rules Football in Savannah will be played at Daffin Park from 2.00pm on Saturday June 29th. Players from the Savannah Hurricane, Atlanta Kookaburras, Rome Redbacks and Jacksonville Saints will fight it out in this historic first game.

Bring something to sit on, maybe some cool drinks and a hat and sit back and watch 4 quarters of a fantastic running, action packed game like you have never seen before.

Or join in, reach out to us and come to practice and you can be a part of sporting history.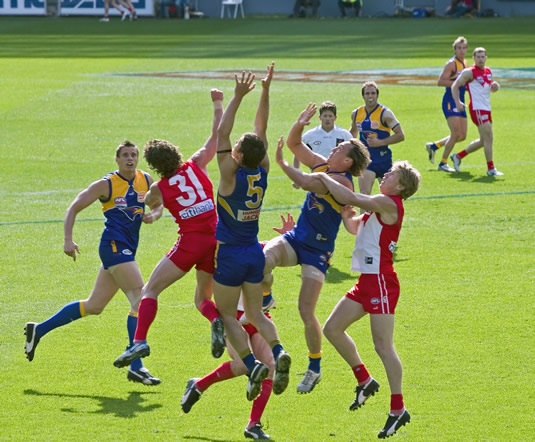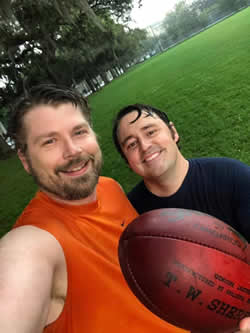 We have both played Aussie Rules Football before for the Nashville Kangaroos and the Atlanta Kookaburras respectively. But since we are both now here in Savannah we thought why not start a team here. So is the beginning of the Savannah Hurricane.
The game is so much fun and really is a game that has everything. Once you play you will be hooked.
So join us at a practice or just reach out to find out more. You really need no experience to play just a willingness to try a new challenge, get out there and have fun and maybe make life long friends.
Cheers